How are we a week into February already? It feels like just yesterday was New Year's Eve!  Once again I am linking up for the monthly coffee date with Coco, Deborah, and Lynda, because, as usual, I have random stuff to share with you. The saddest thing is that my coffee pot broke and I haven't replaced it yet. I have a back up, but it's not very efficient. So, I'm having coffee, barely.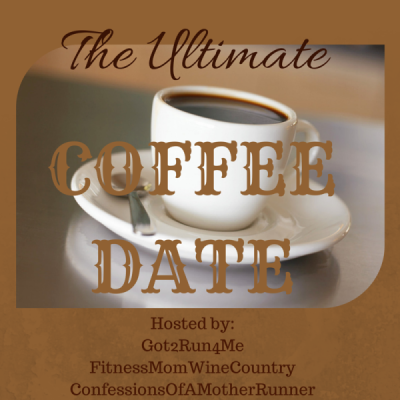 I
If we were having coffee, I'd tell you that I'm sad and happy that my Run Streak ended. I'm sad because I was enjoying it. I'm happy because I was becoming a little too attached to it and I was beginning to be afraid I'd make poor choices if injury arose. Thankfully, taking a day off allowed my knee to heal quite a bit, so I'm running again. Now I'm just trying to keep an exercise streak alive.
If we were having coffee, I'd tell you that I'm really excited to be an RNR Rock'n'Blog blogger and that I can't wait to run RNR DC. I'm still struggling to figure out which other RNR races I'll run. I'd really love to get one of the special medals, but we'll see what I can pull off.  In the meantime, don't forget to use my code: MCMMamaRunsRNR for $15 off any half marathon or marathon in the U.S. (except Las Vegas).
If we were having coffee, I'd tell you that I'm really sad my treadmill is dying. We bought it just after Shoo was born and it's been used 5-7 days a week since then, so I can't complain that we didn't get our money's worth, but I'm not excited to pay for another one. I found one I like, but I haven't found a place to buy it locally yet. Right now I'm trying to get my miles in outside and only use the treadmill when I have no other option because I can tell it only has a few more miles left in it…
If we were having coffee, I'd tell you that I still haven't written a training plan for my races this spring. I'm trying something a bit different – I may not hit 20 for my longest long run, but I've been running back to back long runs.  Next week will be 13-14 one day and then 10-11 the next.  So far, the weather has been cooperating and I've not found myself running in circles on the one clear path I can find.  Send positive thoughts that the weather continues to cooperate. M'kay? Thanks.
If we were having coffee, I'd tell you that I'm pretty darn excited about the new prints coming out from Skirt Sports.  I recently bought a new Lotta Breeze Capri and LOVE the pattern. There are some really awesome patterns coming out this spring.  Don't forget to use my code (SSMCM20) when you buy one!
I may have also taken advantage of a sale and bought another running jacket. No, I don't have a problem. Really.
[Tweet "Join me at RNR DC! Stop by my blog for a code. #rocknblog #rnrdc #marathontraining"]
How's the weather by you? Cold? Snowy? Part of me would love a snow day, but the runner in me would prefer not.
Don't forget to join us on Tuesday to talk about our favorite fitness apps!
This post contains affiliate links.