Some random glimpses into my world:
Yesterday it snowed.  Today it's a feels like of 19*. The thought of getting on my treadmill makes me want to cry, but I'm so over being cold.  I just can't do it today.  And I'm going to be super pissed when Virginia pulls a fast one on us and goes straight from below freezing right to 90* and matching humidity. You know that's what's going to happen.
I've become a little obsessive about this whole 13 half marathons in 79 days.  I can't tell you how many times I've counted the days from RnR USA on March 15 to Zooma Annapolis on May 31.  Every time, I get 78 days.  I'm sure I'll count again.  (You can count for me too and confirm it…)  Yeah, I'm a little crazy.
I still have one race to fill in on the calendar.  It should be Iron Girl Half Marathon, but the website for registration hasn't been working for the last few days.  From a mental standpoint, I need to get this paid for and on the calendar.  Then all 13 are accounted for.  And don't think I haven't contemplated adding in one more race, "just in case".  ("They're coming to take me away HaHa. They're coming to take me away…)
I started mentally putting together my outfits for the 5 half marathons in 5 days yesterday.  This resulted in an order of PROCompression socks (don't forget: code BLG14 for 40% off on Marathon socks and sleeves until April 5, 2014) and an order of C9 tops from Target.  I also recently bought myself another pair of Altra Running Intuition 1.5 – this time in green. I think I have everything I need once I get my packages, but we'll see – I still have to stalk the weather…
I have 48 miles to run between today and March 31 to reach 200 for the month.  As long as my body keeps feeling good, I'm going for it, but I'm being super careful at this point.  I'll happily miss 200 if it means I don't miss any races.
My body hasn't figured out that it needs to stop eating.all.the.things.  I don't think it's hunger, but it's been super hard to stop the constant stuffing of my face.  Yesterday I drank so much water to keep my mouth busy that I got a workout just going up and down the stairs to the bathroom all day.  Which leads me to What I ate Wednesday and my attempts to eat a bit less + healthier…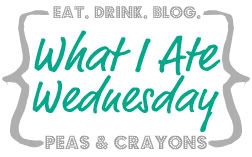 Breakfast: I've gotten back to eating veggies and eggs for breakfast.  This works great for me, except on days when I have a 10+ mile run, mostly because I have to start my run closer to breakfast time and my tummy doesn't like that.
Lunch: Yeah, another Morningstar veggie burger, this time on top of a salad.  It's an addiction.
Dinner: Chicken soup with fresh baked bread (Take n Bake, not homemade. I suck at baking.) I love soup, but I'm so over soup at this point.  I'm not a huge fan of chicken noodle, but it's one of the meals that everyone in the house eats.
Snacks: almonds (not pictured), grapes, and a Fiber One bar.  I can't wait until I can eat frozen grapes again.  Awesome snack that takes a long time to eat but has few calories.  It's just too darned cold to eat anything frozen right now…
Thanks to Jenn and Heather for hosting!
What's your favorite low calorie snack for when your mouth wants something, but you really don't need any more calories for the day?  I'm so bored with my food these days…
Don't forget to enter my Apera Sprint Bag giveaway!!!