First off, congrats to Christi, the winner of the Apera Sprint Bag and the 25% off coupon for one of their other bags.
a Rafflecopter giveaway

Email me at mcmmama at gmail.com to claim your prize.
So, I had this whole plan in my head to write about how my training went and what I learned training for my second "5 half marathons in 5 days" series, but my body has had other ideas.  Apparently it's ready for taper.  I'm exhausted.  I've been falling asleep on the couch every afternoon and I've barely made it to Jones' bedtime the last couple of nights.  Lesson learned?  Trading sleep for mileage takes a huge toll on your body.  Luckily, I have just over a week until the series starts, so I'm trying to sleep extra hours every chance I get.  Sleep.  It does a body good.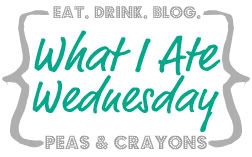 Something else I've been focusing on lately has been to eat a more consistent lunch.  With trying to fit in close to two hours of running everyday, I got in the bad habit of not eating lunch.  I'd just grab handfuls of this and that all afternoon.  As a consequence, I never really ever felt full.  And I can't say that all the handfuls were of healthy foods.  For the last week or so, I've been making myself sit down to an actual meal. (As an aside, I often call the mid-day meal dinner.  I'm sure it has to do with the fact that my family used to farm and the big meal was mid-day.  It drives my kids batty when I call lunch "dinner".  Sometimes I say it just to annoy them LOL.)
Anyways, here's a sample of my lunches from last week.  Not included is a super yummy Mexican meal – no pictures because I'm sure my lunch partners would have thought I was odd. ;o)
More often than not, lunch seems to be salad with a veggie burger LOL.  One day I went upscale and baked a chicken cordon bleu and had that with a salad.  Fancy!
What do you eat for lunch?  I'm obviously in a rut and need to branch out!