It's Monday and my kids are in camp this week. And I've already taken the "scenic route" on my way back from dropping off Jones at camp in DC.
This is the only week they are in camp all summer.  As you might guess, I'm trying to accomplish more this week than all the other summer weeks combined.  I'm taking my car in for its annual inspection.  I'm taking the cat in for her physical and rabies shot.  And I'm scheduling my mammogram.
I know, I really know how to party.  I've been getting mammograms since I turned 40, even though there is some controversy about how early to start.  I have a (recent) history of breast cancer in the family, and even though my very first mammogram led to an extremely stressful month, I'd rather have a negative biopsy than miss something that could have been caught early.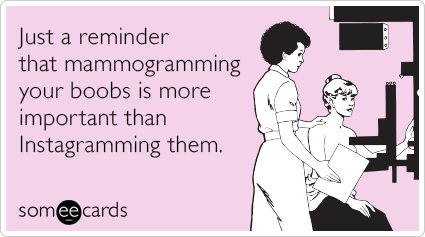 So, how do you make a mammogram pleasant?  (OK, maybe that's a stretch, let's go for "how do you prepare for a mammogram?")
Choose a department/hospital/doctor you trust.  My research, my regular doctor, and my friends all recommended the same hospital.
 Schedule your appointment for mid-cycle.  Trust me, you don't want to be squishing the ladies when they are already sore!
Get your appointment as early in the day as you can.  It's nice to just get it over with and some women find they need to skip their caffeine until afterwards (due to increased breast soreness.)
 Take ibuprofen beforehand.  (Ask your doctor or the radiology department, of course, but it can really help if you have any soreness.)
 Relax.  The odds are in your favor that nothing will be found and that even if something is found, that it will turn out to be nothing.  And the procedure?  It's really not that bad. I've had three + an extra on one side and running a marathon is more painful (and the pain lasts longer in a marathon LOL).  Not the most enjoyable way to start the week, but there are definitely worse things…
And once I get all my chores done, I think I'll try to figure out if the marathon training I started last week is going to actually lead to running a marathon…
Want more info?  Check out this page on the Molina Healthcare website.
The opinions in this article are my own. I do not work for, or with, any brand mentioned in this article, nor do
I have any official relationship with them.  I have a relationship with GigaSavvy, for whom I create original editorial content.