I've been wanting to join in on the WIAW over at Peas & Crayons for a while now, but a) I suck at remembering to take pictures and b) I tend to eat a lot of on the run bits and pieces rather than meals. I've been working really hard to slow down and actually sit and eat a meal and last week I was pretty successful at that. I've continued to do a pretty good job this week.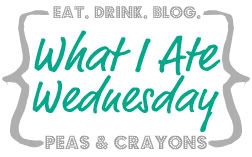 Lunch: Sauteed onions, red peppers, turnips, mushrooms, and a black bean veggie burger with a sprinkle of shredded parmesan cheese on the top. I'm pretty sure I ate it right out of the pan.
Snack: Slice of multi-grain bread. I'm a sucker for fresh bread and I'd just been to the bakery that morning.
Dinner: Potato Leek Soup and another slice of bread.
Evening snack: Fat free ricotta cheese with maple syrup and walnuts. (Yes, I do use my kids' old bowls. This has Cookie Monster on the bottom LOL. It helps keep my portions smaller.)
——————————————————————————————————–
I found yesterday's scale discussion quite interesting. It's funny how we all see it differently. Today my weight was up, but I know that it was just a fluctuation due to too much sodium yesterday. Had I seen that number after not weighing myself for a week or a month, I'd be convinced I was heading straight for my fat pants. ;o)