Is the song stuck in your head now?
You all know I've been trying to get over bronchitis in time for Marine Corps Marathon. My training has been completely upended because of it. Running has been a struggle and I haven't made it more than 4 very slow miles. I did have one fast 3 miler last week where I thought albuterol was the answer, but Monday's no good very bad slow as molasses run showed me that the inhaler helps, but I'm not healed.
You know what else Monday's run showed me? The "I've run 80 miles this week, so my body is worn" ache is still in my hip. A quick (and painful OMG!) visit to the chiropractor led to the discovery that my entire right side is a bit out of whack from compensating for the hip. After some ART that made me want to cry like a baby, I left with instructions to foam roll the hell out of my lower body (ok, maybe not his words) and a NO RUNNING edict until he sees me again. 
So, for those keeping track at home that's 80 miles of running 2+ weeks ago and no long run since.
What!??! Who does a 5 week taper??? This girl. This girl right here.
But I'm tenacious. And I am going to run the Marine Corps Marathon. And finish it. With a smile on my face. It won't be fast. There will be walking. But I'm pretty sure I can "Beat the Bridge".
Wednesday I'll be doing my usual winter sign up for the gym, as the elliptical was okayed by the chiro (of course, the challenge there is to not go into a coughing fit.) If I get permission to run on Thursday at my appointment, I will make one more attempt at a long run. If not, well, I'll be doing a lot of walking and ellipticallying and foam rolling (that shit is painful!) and hoping my lungs will heal.
I want that medal. I've worked hard for that medal. I ran through a Virginia summer (my definition of hell) for that medal.
I intend to get it.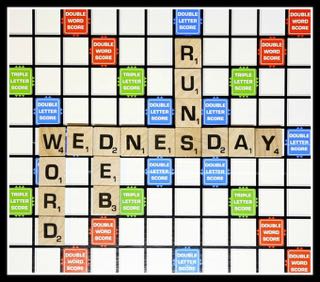 I'm linking up with Deb Runs for Wednesday Word. Today's word was tenacious – which seemed absolutely fitting for the post I needed to write today.