I hate calling it a diet.  I know that the primary meaning is "the kinds of food that a person, animal, or community habitually eats," but it seems to more often than not "diet" refers to a strict eating plan designed to bring about weight loss (or some other physical change).
So far, the Metabolic Effect Diet is more the first for me than the second.    First, I've always done better with frequent meals.  It keeps my blood sugar much more even and I don't feel the need to snack nearly as often.  Second, I don't feel like any food is restricted.  I can't eat as much as some things that I might have in the past (cookies, "junk" food, etc.), but if I want a few bites, I can have them.  The key here is to only have a few bites.
And it's working.  I've only lost a couple of pounds (given Savor and Mother's Day, I'm actually really happy to just not have gained), but I feel so much better.  Before I made the change to more frequent meals, more protein at every meal, and smaller amounts of carbs, I was on a constant snack binge.  Most of my snacks were healthy, but they were constant and I never felt full.  Now, I eat my small meal and I feel happy and satisfied until my next small meal.  The hardest part for me is protein, so I've been cooking extra meat to keep in the freezer for throwing together a quick meal.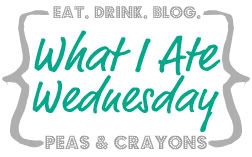 Here's what I ate yesterday.  We had leftover Thai food, so I used up the small amounts of leftovers in a creative, ME-ish way…
Breakfast: My regular breakfast seems to be 2 eggs + whatever veggies I have + a small amount of cheese.  I really need to make a batch of my quiche so I have a quick and easy breakfast in the morning…
Early lunch: Kai Pad Pick Kraprao (chicken with basil, hot peppers, and onions) with stir fried vegetables and just enough couscous to soak up the sauce.   Because, OMG, the sauce!
Late lunch: Tom Kha Khai with added cauliflower.  In fact, most of the bowl is actually cauliflower.  I would eat this every.single.day if I could.
Dinner:  Ginger/soy glazed mahi mahi, rice, and cucumbers.  (I admit, I ate a lot more cucumber than that, but I forgot to take a picture right away LOL)
Evening snack:  Banana pancake!  Kim gave me this little recipe: 1/2 banana, T of peanut butter, and 1 egg.  Whisk together and cook like a pancake.  Seriously the best thing ever.  I actually made a double batch last night accidentally, so I saved half and reheated it in the toaster oven this morning.  It's better fresh, but it was a great easy breakfast and stuck with me for a long time.
And then there's the other piece to ME – Exercise…
They promote a weight lifting circuit, interval workouts, and walking.  I've done two of the weight circuits so far.  They looked really easy.  They even seemed really easy. Until they weren't.  20 minutes and I was wiped out!  I know that eventually I will need to add the supersets and I'm sure that down the road I will need to switch things up more, but today is not that day. Since I've done a whole lot of nothing but run, my body is really feeling the workouts at this point.  As in, after the first workout, I felt like T-Rex LOL.  As far as cardio, I have been walking Shoo to school every morning and then running.  Since Virginia thinks it's July, speed work has not been an option, sigh.
So, that's where I stand after a week of *mostly* following ME:  small progress, but progress nonetheless.  My goal for the next week is 3 weight workouts + continued tweaking of my diet.
I guess now I should focus on race #11 this weekend!  Gah!
Don't forget to enter my Altra shoes giveaway!!!