Every year, I suffer through Virginia's summers.  90+ degrees with matching humidity = pretty much all of July and August + some of June and September.  In exchange, Virginia usually delivers me a reasonably cold winter with not a lot of snow.
Sometimes Virginia does not live up to her end of the bargain.  Sometimes we get FEET of snow.  Sometimes we have wicked cold weather.  While we haven't had feet of snow this year, we've had a fair amount and we've had crazy cold weather.  This week (after a Monday where the highs nearly hit 60!), we have both.
Bring on the treadmill and the comfort food!
I did 4.7 miles on the 'mill yesterday and will do around 6 today.  Who knows when I'll feel safe running outside again.  (Snow removal is not Virginia's strong suit…)
Here's how I "fueled" yesterday:
Breakfast: homemade french toast.  I used whole wheat bread, eggs, and milk and put on a reasonable amount of pure maple syrup.  Fairly healthy for a comfort food breakfast.
Lunch: Morningstar Farms chickpea burger with cauliflower.  Yum!  I swear I go through a head of cauliflower each week and I don't even eat Paleo LOL.
Dinner:  Sweet Potato and Turkey soup.  I made this in the crockpot over the weekend.  So, so good.  And so, so easy.  Recipe below.
There may have been a piece of apple pie in my evening, but I'm not confirming or denying that…
Thanks, Jen, for another WIAW!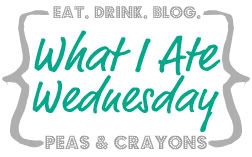 Turkey Sweet Potato Soup
Olive oil
1/2 Cup onion
1 small jalapeno, minced*
5 Cup turkey or chicken broth/bouillion
1.5 pounds sweet potato, peeled and cut into 1 inch cubes
2 Cups 1/2 inch cooked turkey cubes
1/2 teaspoon salt
1.5 Cups frozen corn
Add all ingredients except corn to a 4 quart crockpot/slow cooker.  (I find that 1.5 times the above recipe works with a 6 quart crock.)  Cook on high 3-4 hours or on low 6-8 hours. 3o minutes to an hour before serving, throw in the corn.  Serve with hot sauce.
See, so simple. *I prefer to use somewhere between a teaspoon and a tablespoon of chopped chipotle chili in adobo.  Gives it a nice smoky undertone.  In a pinch, you can also just add hot sauce or leave out entirely if your family doesn't like spicy.