It's less than a month until I meet up with Kim and her friends at the Riverboat Series.  I am balanced precariously between excited and exhausted.  Excited because I'm really looking forward to seeing my friends: Kim and many who I met at Dust Bowl last year.  Exhausted because I'm in my hardest training week for the series.
So far this month, I've run almost 109 miles.  I have 3 double digit runs and two half marathons left before the series starts.  Two of those long runs are today and tomorrow:  days 5 and 6 of running with a 34 miles already on my legs (including 13.1 at race pace.) I know the key right now is mental strength.  My body can do 20+ miles over the next two days.  I know it can.  I just can't let that little voice in my head convince me otherwise.
I can see the light at the end of the tunnel.  I just have to keep moving forward.  Soon every run will be 9 miles or shorter. (Since when did 9 become "short"? LOL)
The big question:  Can I hit 200 miles in March?  I'll be taking it right up to the last day and it's going to be close!
So, how am I fueling for all this running?  By eating all the things.  Seriously.  I'm hungry.all.the.time.
At this point, I'm just trying to make sure that what I stick in my mouth is as healthy as possible.  I've given up any hope of actually controlling how much I eat LOL.
Here are a few of the things that are fueling me:
I had my first green smoothie the other morning.  It was an experience I won't be repeating.  I don't own a blender and my immersion hand blender left way too much "texture".  Also, I like veggies and prefer to eat them, not hide them in a mix of bananas and protein powder.  I'm weird like that.
I've also developed an addiction to Morningstar veggie burgers.  I probably eat one 3 or 4 times a week.  I used to only eat the black bean burgers (I don't like the ones that are trying too hard to taste like a meat burger) but recently I've fallen in love with the Mushroom Lover's, the California turk'y, and the chickpea burger.  Wrap it up in a tortilla with as much salad as I can squish in and I'm a happy camper!
And OMG, these Brussels sprouts!
Beer Geek doesn't like the smell of Brussels sprouts cooking, so I take every opportunity to eat them when we go out.  The huge plate of Brussels sprouts was eaten a Rustico, an awesome beer bar.  I'm pretty sure I could have happily eaten double that amount and been a happy camper.
What's your secret to fueling high mileage?  Do you find yourself so hungry you could eat non-stop and never be full?
Thanks, Jenn, for another WIAW!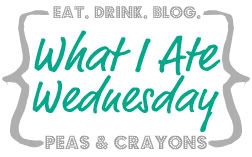 Don't forget to enter my PROCompression socks giveaway!