Whew, that's a lot to throw in one post…
Recently I was given a bunch of different Honest Tea products to try.  At the same time I was approached by Adventure to Fitness about getting one of their Fit Family packs (and giving one of them to a reader.)  Since Adventure to Fitness has partnered with Honest Tea, I figured I'd combine them here.
Adventure to Fitness
Adventure to Fitness is all about "Inspiring kids to lead healthy lifestyles through imagination, education, and movement."  They offer videos that incorporate learning and movement and are, quite frankly, interesting and motivating.  The Fit Family pack they sent me included two packages of Honest Kids juice packs, a DVD, and various coloring and art activities.  I wasn't sure my kids would be interested.  Jones is a little on the old side for this and Shoo tends to follow his brother's lead.
It was rainy here yesterday, so I popped in the DVD after dinner.  Imagine my surprise when both boys actually jumped to their feet and started moving as directed by the show!  They loved the video!  Jones was really into the educational aspect, but they both wanted to run and move.  Jones even said he'd be interested in doing it again. I'd call that a success!  The website has a ton of activities and other cool stuff on it as well.  Want a Fit Family Pack of your own?  See the bottom of the post for a giveaway!
Honest Kids juice pouches and other Honest Tea products.
The kids love these pouches, especially the grape and tropical tango punch flavors.  My kids never get straight up juice at home.  It's always seriously watered down.  But there are times when I allow 100% juice pouches or boxes when we are out (don't get me started on "juice" drinks…)  Honest Kids is lower in calories and sugar than most pouches/boxes – mostly because it's watered down juice.  No high fructose corn syrup, no GMOs, 100% organic AND the kids love the taste.  No, it won't ever be an everyday thing around here, but when the situation warrants, these are my new go to.
I was also given a selection of Honest Tea products for adults and they are all quite good.  I've been trying to wean Beer Geek off his one diet soda a day onto the teas. It's sort of working LOL. Personally, my favorites are the Fizz sodas.  One in particular is my new addiction:  Professor Fizz.  It's a zero calorie (stevia sweetened), caffienated, spicy cherry soda.  I very seldom drink soda, but this is my new favorite on those rare occasions when I have a craving. (And when I say seldom, well, they gave me 6 back in early April and there are 3 left.)
While I am far from Honest Tea's best customer (we just don't drink a lot besides milk, water, and coffee around here), I think the products are wonderful and I love their mission statement.
Honest Tea seeks to create and promote great-tasting, truly healthy, organic beverages. We strive to grow our business with the same honesty and integrity we use to craft our products, with sustainability and great taste for all.
When I need packaged beverages, Honest Tea/Honest Kids are my first choice.
What I Ate Wednesday (or in this case Tuesday)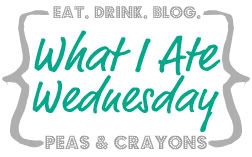 I've been trying to clean up my eating lately.  I've been eating constantly and been leaning heavily on "comfort" foods and what I can grab on the go.  Now that my life is a bit calmer, I have no excuse for that.  So, I made sure that my veggie delivery from Washington's Green Grocer was heavy on the greens this week.  I've been having veggies and fruit with practically every meal.
Counterclockwise, starting from top left:
Breakfast:  the infamous quiche
Lunch: a huge salad – four different greens, cucumbers, mushrooms, and red peppers form the base.  Then I toss on a small amount of blue cheese, walnuts, and cranberries for flavor.  Sprinkle on apple cider vinegar and a small portion of whatever meat I can find and Bam! A healthy, very filling salad!
Dinner: smaller version of the salad + leftover teriyaki chicken thighs from Trader Joes.
And Dessert:  I just can't give up dessert.  I've come up with something that's mostly healthy and totally satisfies my sweet tooth.  I smoosh a banana, heat it up with a bit of chocolate coconut butter, and toss on some toasted walnuts.  So yummy!
And your reward for reading?  Enter my giveaway…
Disclaimer: As mentioned above, I was given all products from the mentioned companies.  All opinions are my own (or my children's).