No, I'm not talking about flatulence…
I'm talking about actually cutting cheese out of my diet.
Dairy and I have a rocky past. Both of my boys had milk allergies as babies, so I had to cut all dairy while nursing. (Yes, even the trace stuff in processed foods. Yes, it sucked.  And it sucked for almost 3 years while nursing Jones and more than a year with Shoo).  I'm not sure I could ever go back to that strict elimination and I have zero intention of giving up my milk in my coffee or the occasional bowl of Greek yogurt, but it's time to decrease the amount of cheese I eat.
I'm a Wisconsin girl and I firmly believe that everything tastes better with cheese, but quite frankly, it's not the best kind of fat and it's taking up too much of my diet.  Lately, I've been adding cheese in places where I would normally add spices.  And I wonder why my jeans are tight.  Sigh.
The big caveat to this is little bits of highly flavorful cheese on a salad or those tiny bits of cheese they give you at a good restaurant as an appetizer.  REALLY good cheese is always worth it, but that kind of cheese is not what I've been covering, umm, all my food with.
So, my dear friend cheese, I'm showing you the door and adding extra vegetables and spices instead.
With that in mind…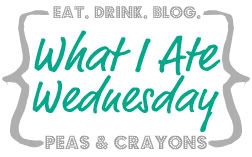 (Thanks, Jenn!)
Breakfast: (as an aside, I had to put these in a bowl because they kept rolling away when I tried to take a picture LOL)
Lunch: This was pretty much catch as catch can.  A handful of nuts and a piece of fruit since I've been busy lately.
Snacks:  I'm a huge snacker.  I pretty much eat all.the.time.  Thankfully, this week I managed to focus on fruits and veggies.
Dinner:  Instead of pasta, I ate my chicken and pasta sauce over sauteed cabbage, mushrooms, and onions.  It was surprisingly good!
And dessert. I love dessert.  I also discovered I love sweet potatoes as dessert.  Who knew?
I also got my March NatureBox delivery.  The lemon meringue things above?  120 calories for the entire bag!  And so very good. (I'm even prouder that I didn't eat the whole bag!)
Do you have a food that you eat at the "wrong" time, but love anyways? (Yes, cold pizza for breakfast counts LOL.) Do you have a food that you need to eat less of because it's taking the place of healthier options?
On the fitness front, running is suddenly not going well. Virginia has decided to jump straight from winter to summer with barely a day of spring.  Seriously.  On April 4th, I whined on facebook about being tired of waking up to temps in the 30s.  Today, the high is supposed to be 90*.
Dear Mother Nature,
Quit fu%&ing with me.  I can't adapt that fast.
Love,
The really sweaty runner