AKA What I ate Wednesday…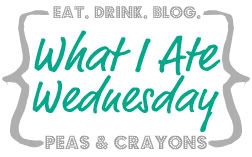 Last week, I ran 68.5 miles.  I'm pretty sure that's my highest mileage week EVER.  Five half marathons + a 3 mile recovery run = a lot of running.
It also equaled a lot of eating. Like constant eating.  Here's how I came home weighing exactly what I did when I left LOL:
Breakfast:
Every morning started with either a peanut butter and jelly sandwich or a peanut butter sandwich and a banana.  (I never thought I could get tired of PB&J, but I am.  I can't stand to even think about one right now.)
During the race:
I relied mostly on nuun.  Even though I could have eaten an oreo (or potato chips or a sandwich or a snickers or…) after each lap, I found that I really didn't eat much.  Other than the first race where I drank a ton of gatorade in the last two loops, I really didn't take in many calories when I was running.  I don't eat when I do training runs, so my body really doesn't expect much in the way of calories during a half marathon.
Immediately post race:
Photo courtesy of Kim, since Beer Geek didn't take a food picture LOL.
As I finished each race, I would grab a few things off the table and get some gatorade.  My favorites were the chocolate creme oreos and the bite sized snickers.  Yes, I fully believe in chocolate at the end of a half marathon.
Post race "snack"
Most of the races involved a 30 minute or so drive back to the hotel afterwards.  I found this was the perfect time to drink a Muscle Milk.  I got a few boxes of this as part of my ZOOMA Annapolis ambassadorship.  I don't like the "light" version, but I found that the regular ones (both Vanilla and Chocolate) tasted great and were exactly what I needed.  One bottle and I was good to go until lunch!
Lunch:
Since we were on the road, this varied a lot.  I ate Subway (didn't love it as much as I did in the Dust Bowl), fast food salads, and after the last day, Mexican food (so good!)  There may have been donuts with my lunch one day…
Dinner:
I admit: I ate a huge dinner every night.  Three of the nights we met up with other runners.  (If you do one of these series, you MUST got out to eat with everyone.  So fun!)  Two of those nights were all you could eat.  And I did.  I'm pretty sure the Chinese buffet lost money the night we all ate there.  You've not seen eating until you've seen what a bunch of marathoners can put away the night after their second marathon in two days!!  One night Beer Geek and I shared a steak the size of a serving platter at Doe's Eat Place!
The remainder of our trip was vacation.  And we were in the south.  I had hushpuppies and BBQ.  I tried Elvis' grilled famous peanut butter and banana sandwich.
And of course, there was beer!  (Although most of what I drank was beer we brought as there weren't a whole lot of craft beer options where we went…)
We are home now and my body is ready for some healthy eating (although you'd never know that from the sheer number of jelly beans I've eaten since Easter…).  I bought a huge salad mix from Costco and I think it might last me a couple of days…
I also ordered the book that Kim has been using: Metabolic Effect.  She looks amazing, and even more importantly in my opinion, she ran so fast and so strong this past week!  If I want to get back to a sub-2 half, I need to get serious and it looks like this might be the answer.