I'm not really one to talk about dieting. I've been within a 10 pound range of weight since I lost the baby weight with Shoo. But I'm feeling soft and even my running skirts aren't fitting as well as they should, so I need to make some changes.  I know Kim has had a ton of success with the Metabolic Effect, so I'm checking it out.
I've skimmed it enough to start, but I really need to do a more in depth read.  It's not earth shattering ideas, but most of what it suggests are things that have worked for me in the past: 1) More frequent meals, 2) Protein at every meal, and 3) decreased amount of starchy carbs.  I do like that it doesn't tell you to eliminate entire food groups or even entire foods.  It just suggests limiting how many bites and suggests better options. There is no expectation of perfection – just a reminder of choices that you can make.
My first step was to stop at Trader Joe's and pick up some extra produce to add to what I bought at our usual grocery store.  I have a bad habit of skimping on produce for me (ie, I buy produce for the boys' lunches and for dinners, but don't get any for my lunches and breakfasts.)
So, here's what I ate yesterday to start revamping my eating habits…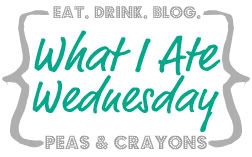 Breakfast: I had 2 eggs with mushrooms, onions, red pepper, a little bit of blue cheese, and arugula with a half of a piece of toast.  ME suggests limiting dairy, so I went for a flavorful cheese and only a splash of milk in my coffee.
Snack: Banana – not a suggested fruit, but it's what I had on hand and I did grab a handful of nuts with it.
Lunch – I've recently discovered I love salads with warm things on them, so I made a salad with heated up pork and black beans.  Also? Salsa + a small spoonful of Greek yogurt = awesome salad dressing.
Snack: Apple + nuts
Dinner: Cod, broccoli and cauliflower, and black rice.  I sprinkled malt vinegar over the fish and the rice. (Yummy!)
Snack:  I love sugar.  I love nothing more than eating a scoop of ice cream or a couple of cookies at the end of the day.  I'm not going to succeed with any lifestyle changes that take it out completely.  (I've tried sugar elimination and I end up grazing on everything that ISN'T sugar.  I do much better with just a small treat at the end of the day.)  In an attempt to "healthify" my treat, I had raisins as my sweet.  It seemed to do the trick and was yummy.
Thoughts so far?  This is definitely a lifestyle I can work with.  I'm awful about not eating much protein and eating a ton of carbs, so this is making me think before I shove food in my mouth.    I'm only two days in and I've definitely lost some of the puffiness, but it's way to early to think about whether this is a success or not.
Next step:  Figuring out the weight lifting portion and fitting that into my life.  Because we all know I'm not going to quit running…
What's your favorite thing to add to salad?  I love salad, but I'm always looking for new idea!
Please vote if you have a moment. Thanks!