Garmin says I ran 35 miles in June, which likely translates to a total of 50 miles of running, 3 weight workouts, and one spin class.
Then I ran a half marathon on July 5th and wondered why it was so hard.
Yeah, I'm pretty sure a month long taper is the reason.
And after the half marathon? I took a two week vacation.
Guess what?  The end result is hating every step of the 25 miles I ran the week I started back to training.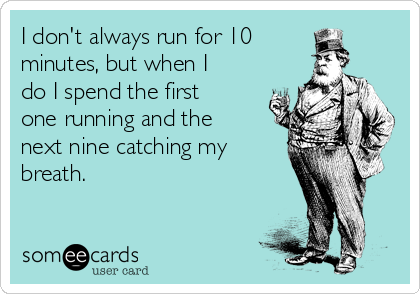 Ya think?
Add in some heat, some humidity, and a bit of dehydration and last week's awful 7 miles makes a lot more sense.
I'm not sure how exactly I'm going to get from Point A (now) to Point B (Ragnar) with a short detour to Point A-(a half marathon), but I do know I'm going to do it a lot more carefully than I originally planned.
Because running more miles in two and a half  weeks than you did in the entire 6 weeks preceding is pretty much a recipe for disaster.
And it's going to be a whole lot easier to run Ragnar slightly undertrained than it would be to run it injured…