This past weekend, I fell off the healthy eating wagon in a big way.  Now, I'm a big believer in all things in moderation.  I also believe that the occasional "eat.all.the.things" day is totally acceptable.  In general, I don't diet, I don't restrict foods, I just try to make healthy choices most of the time.
There were no healthy choices this weekend.  We went out to dinner twice, we went to a cookout, and we went on date night.
My meal choices looked something like burger, burger, Mexican food.  Add on a few beers and a margarita and guess what?
I feel like crap and my shorts are all tight. Ugh.
It's time I really focused on my eating.  "They" say you can't out exercise a bad diet.  Right now, I'm the poster child for that sentiment.  Add in the fact that my mileage is decreasing and it's time to take charge.
I'm doing two things:
1.  I am back to small meals with a vegetable or fruit (or both) at every meal.  I'm not going "low carb" perse, but I am avoiding the ones that I have trouble eating a reasonable portion of, like good bread, pasta, and chips.  Instead, I'll have quinoa and other whole grains and sweet potatoes as my starchier carbs.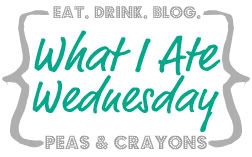 Breakfast – Quiche
Snack – sauteed veggies + cottage cheese
Lunch – salad with Morningstar chickpea veggie burger + salsa (salsa makes a really good, healthy salad dressing!)
Snack – orange + almonds
Dinner – Sirloin + broccoli + cauliflower with cottage cheese
Snack – "pancake" – 1/2 banana, egg, 1 T peanut butter (tastes just like a slightly sweet pancake with no added sugar!)
2.  I just joined FitKnitChick's 40+ Female Fitness Training Group. (There were still a few spots left when I signed up) I had really good results with Tina Reale's Best Body Boot Camp last summer, but she is no longer running it as a group training with the support and accountability.  That piece really helped me lift weights, which I need to do.  I've heard good things about FitKnitChick's program, so I'm hoping the nutrition information + the accountability of having a group to get me to actually do some strength training will be just the kick in the pants I need to get back on track. Conveniently, it starts right after I finish my 13th half marathon, so I'll be ready to move on to something new.
Are you summer ready?  I'm not one who goes searching for the "bikini body", but I can think of better ways to spend my money than to buy new shorts!