I've mentioned in passing that I was going to do a sugar detox for a week with Mommy Run Fast and some other bloggers.  I LOVE sugar.  No really.  I'd be happy to eat nothing but sweets.  And once I start eating sugar? I can't stop.  I'll keep grazing on sweets until I don't feel well.  Most of the time, I deal with this by only having something sweet at the end of the day.  Eat it. Brush teeth. Problem solved.
However, during the five half marathons, I ate animal crackers at every race.  And then had a couple of the bite sized Snickers after. And then a Coke with my Subway sub. And a beer or dessert every night.
If I'd stopped on Friday when I was done running, I might have been ok, but instead, I kept eating like I was running and next thing I knew, sugar was showing up at every meal and a few times between meals each day.
Time to get it under control by going cold turkey.  Two days down so far.  I can't say that my calorie count is necessarily lower, but the quality of my food is definitely higher!
So, here you go – What I Ate Wednesday (or really, actually Tuesday…) thanks to Jenn at Peas and Crayons.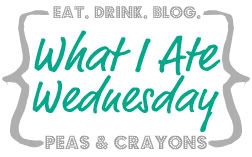 From top left:
Breakfast – peanut butter bread (note the lack of jelly. insert sad face here.)
Lunch: two eggs with mushrooms, broccoli, and onions
Dinner: bowl of ham and bean soup that I made with the ham from Easter dinner (the family had cornbread, but since Trader Joe's cornbread is so sweet, I added quinoa to my soup instead)
Snack option 1: pickles.  Kills the sweet craving.
Snack option 2: fruit.  Fills the sweet craving.
I've eaten 3-4 pieces of fruit each day for the last two days.  I'm hoping to rein that in to 2-3 pieces today.
So far, no headaches, no uncontrollable cravings, no lethargy…  Fingers crossed that it continues to go well.
And just because this picture is worth a 1000 words (taken on the 2nd day of 5, in the last mile…)