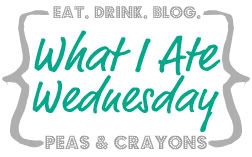 I don't usually participate in WIAW, even though it always looks like fun. There are three reasons: 1) I suck at taking photos, 2) I suck at remembering to take photos and 3) my food is not pretty. See below it you don't believe me.
First breakfast: coffee and part of an apple while packing lunches
Second breakfast: two eggs + sausage (not pictured)
Snack: half of a banana with almonds
Lunch: Sauteed veggies with black beans, salsa, cheese, and avocado
(Ugly but super yummy!)
Snack: Trader Joe's fiber fruit leather (not pictured)
Dinner: Grassfed beef + veggies stir fry with Lundberg Black Japonica rice
(No picture because I was afraid of the consequences if I didn't get food on the table FAST!
Snack: Cut up fruit with a dollop of almond butter
(Yes, I realize it was half eaten in the picture)
See what I mean? A food blogger I am not. Thanks Jenn for another great WIAW!
Unrelated, my foot is still swelling a bit at the end of the day, but I've had zero pain in the last 24 hours.  Planning to hit the road for a 3 mile run after I bike the boys to school on National Bike to School Day!