As a Fit Foodie ambassador, I had the pleasure of attending the Friday night VIP Cocktail Party, the post race finisher's festival and the brunch after the Boot Camp on Sunday (Boot camp will be it's own post).  I could really make this a really short post.
The food was AMAZING. The end.
No?  Ok, here goes.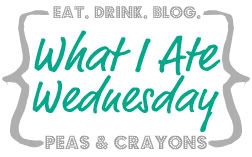 or What I Ate at Fit Foodie
Friday Night VIP Cocktail Party
The event was held in the "Interlude" under the Angelika Theatre.  There was a drink table with cocktail options, wine, and beer.  I partook of the cocktail innocently called "The Juice".  It was quite tasty and refreshing, which was a little bit dangerous. In addition to the drinks, there were four food stations + a huge table of Sartori cheese. (One of the best parts about the Sartori cheese was that they sent us home with a cooler bag of all of the cheeses! WIN!)
From left to right, here's what we had to eat:
Grilled cheese sandwich with pimento and kimchi – I can't remember exactly, but it was soooo good.
Carrot ginger soup, watermelon, and cucumber with shrimp.
Salad in a jar – the most amazing combination of flavors.  You shook it up and then ate it.
Cream of asparagus soup with truffles and aged cheese. Yes, it was as good as it sounds.
Post Race Party
It was rainy and I needed to get home, so I was not able to appreciate it as much as I would have liked.  There were lots of different vendors with tastes available right near the finish line.  In addition, there was a beer and food area off a little ways.  I did manage to taste a few awesome things and then hit the food up in the main area.  Due to juggling plates and the intermittent rain, I did not manage to take a huge number of pictures.
Cold corn chowder with scallions
Watermelon with feta cheese (a surprisingly good combination)
Smoked pimento cheese on crackers
Not pictured: I had a little taco and a salad with beef and some cayenne cocoa popcorn.
Sunday Brunch
When we got done with our killer workout, they had a nice brunch laid out for us.  So many yummy foods to choose from as well as a few vendors giving samples of their foods.
What I ate:
Cold zucchini soup with cherry tomatoes (I don't usually like cold soups but this was really good.)
Egg sandwich, quinoa salad with dried fruit, zucchini? bread, yogurt with spicy granola and fresh fruit
I have to say that every single thing I tried this weekend was good and some of it was so awesome that I wanted to just stay in one place and eat.  In addition to all the yummy food and the actual fitness events, they gave away a ton of awesome gifts.  It was definitely a fun event that I plan to do again!